A TUMMY TUCK FOR A FLAT ABDOMEN
A mini belly lifting is THE solution when excess skin and abdominal muscle problems are limited to the lower abdomen. The type lifting of the belly (even though then not combined with a liposculpture) is thus the suitable operation for people with bad skin elasticity, a local accumulation of fat and less tight abdominal wall muscles in the area around the belly button.
MINI BELLY LIFTING: THE OPERATION
All work is done just bellow the belly button with a mini belly lifting. With a diagonal incision in the lower abdominal area, the excess skin and the fat tissue under the skin are removed from the abdominal wall to the belly button. This tummy tuck uses two tight abdominal muscles which are stretched under the belly button and are then bounded together again. The detached layer which was pulled away when the excessive fat tissue was removed is also re-attached.
It takes 60 – 75 minutes to do a mini belly lifting and it is usually done under full anaesthetics. You can go home the same day.
MINI BELLY LIFTING: POST OPERATIVE CARE
The mini belly lifting is less drastic than a total tummy tuck and it leaves less scars. The incision in this type of abdominoplasty is hidden in the bikini line with an invisible scar in the pubic area and thus not around the belly button. The mini belly lifting scar may seem reddish at first, but it slowly disappears in the following months.
Tummy tuck: Prices in Euros
Mini abdominoplasty

2550

€
VAT incl.

Full tummy tuck

2550 - 3450

€
VAT incl.
Mini belly lifting: before and after pics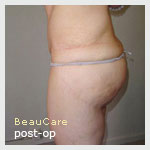 Here you can find pictures of lifting belly
Discover the Clinic BeauCare in pictures