A breast lift is a procedure to correct hanging breasts. A breast reduction is performed to take away excess fat and/or gland tissue.
Weight loss, decreased elasticity through ageing, pregnancy or breastfeeding are all factors that can contribute to a loss of firmness of the breasts resulting in a breast fold which is too deep and a nipple which hangs too low.
A breast lift will in that case improve both the shape and the firmness of the breasts.
When the breast not only hangs but is rather small in size it is possible to combine a breast lift with inserting an implant.
This procedure is also done when nipples are not too low. The more the breast hangs, the larger the implant will need to be. When sagging is not very serious, a breast enlargement of one or two cups will be performed to create firm breasts again. The advantages are that scars are minimal, sensitivity in the nipple remains and breastfeeding will usually still be possible.
Women who have big, heavy breasts often complain of back ache. This is a good reason for considering a breast reduction. The plastic surgeon will discuss with the patient which cup size is ideal and in proportion with the rest of the body. As a breast reduction in many cases also accounts for a lifting effect the breasts will not only become more beautiful and smaller, but considerably more firm as well.
Only a breast uplift or mastopexy can correct hanging breasts.
Breasts can lose their firmness as a result of aging, pregnancy or weight loss. A breast uplift can handle this problem. In all cases, massages or exercices of the breast muscle won't lift the breasts. Depending on your wishes regarding volume and elasticity of your breasts, the surgeon can go for a breast augmentation or breast reduction.
BREAST LIFT: BREAST AUGMENTATION
The surgeon can opt for a breast augmentation if the gland volume is lost, when the nipple is not located too low and when there is no major excess skin. In this case the surgeon will place a breast implant behind the mammary gland. This type of procedure will have a lifting effect and leaves only few scarring.
The plastic surgeon will make two incisions, the first one around the areola, and the second one from the areola towards the breast fold.
Excess skin (and when necessary fat and/or gland tissue) is removed. As the nipple and areola remain connected to the breast gland tissue they are lifted to a higher position. The skin above the nipple is brought down and adjusted thus creating the breast's new shape.
our advice
DON'T BE AFRAID TO TALK ABOUT IT
Don't hesitate to talk about it with other women who have the same idea or who already had breast augmentation. You will notice that you are not the only one having some questions. You can do this in writing or by phone and/or consult forums. A lot of newspapers and magazines have often visited chat groups.
Don't be afraid to discuss your plans with other women who also want their breasts to be corrected or who already had a breast uplift. You won't be the only one who is looking for further advice. So discuss it and visit forums to get you prepared. Some newspapers or magazines offer blogs to discuss.
BREAST UPLIFT: BREAST REDUCTION
If the breasts are pendulous and the nipples are located below the breast fold, then you will need a breast uplift. The surgeon will then remove skin and mammary gland, which will leave more scars. This type of lifting will take two to three hours and will be performed under general anaesthetic.
THE INTERVENTION
In order to lift the breasts, the surgeon will make two incisions : one round the areola and the other one vertically from the areola towards the breast fold. When the incisions are made, the excessive skin will be removed and the areola and nipples will be rearranged to a higher position. The skin around the areola will be stretched to reshape the breast. It is possible to insert a breast implant at the same occasion or to correct the areola.
Breast: Prices in Euros
Breast enlargement with cohesive gel silicone-filled implants with micro textured surface from 200 cc to 600 cc

3300

€
VAT incl.

Replacement breast implants

3300

€
VAT incl.

Breast reduction

3600 – 4950

€
VAT incl.

Breast uplift without implants

3600 – 4650

€
VAT incl.

Breast uplift with implants

5950 - 6950

€
VAT incl.

Capsular contracture

Additional cost of 950

€
VAT incl.
Discover the Clinic BeauCare in pictures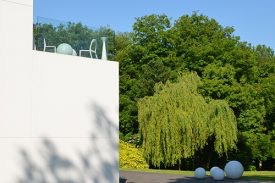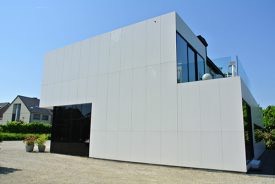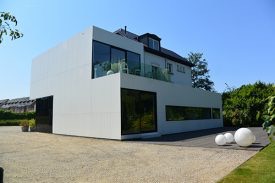 " Will scars be visible after a breast uplift? "

Using an advanced technique of breast uplift, scars will become nearly invisible one year after the surgery. The scars will be reddish at first. They will gradually fade. The surgeon will use a technique without scar in the breast fold, so there is no longer an anchor or T-shaped scar.
BREAST UPLIFT: AFTERCARE
Depending on the surgery technique drains are sometimes placed in the wounds to get rid of excess fluids. These will be removed after 3 to 5 days.
You will need to wear a special bra for a month. This will be measured and fitted on immediately after your breast surgery, in order to ensure optimal support.
The first few weeks arm and shoulder movements will be limited and you will be advised not to practise any sports or lift things.
Sutures will be removed after approximately 10 to 14 days. Scars tend to be red at first. This redness will gradually disappear.
After about four weeks you can start massaging the scars with a hydrating cream. This will speed up the healing process.
Breast uplift: risk factor
The three main risk factors are:
Smoking
Smoking accounts for more wound problems.
System diseases
Diabetes, obesity, coronary disease, high blood pressure represent a heightened risk for wound healing problems because of a lessened blood saturation in the tissue.
Height of the nipple
The more the nipple needs to be moved upwards, the higher the risk of sensitivity changes or problems with the blood circulation in the nipple.
Your plastic surgeon will inform you about possible risks in your individual case. Generally speaking the risks are rather small.
Result after a breast uplift
After a month the result can be evaluated. Most women are very satisfied and proud. In some cases the scar needs to be slightly corrected. This depends on the surgery technique that was used. If this is necessary, it will take place under local anaesthetic with good results.
Patient reviews
I couldn't recommend Beau Care enough. I was impressed, it was soo clean and nicely decorated, and the fact it didn't feel like a 'standard' hospital put me at ease.
At first I had reservations about travelling abroad for cosmetic surgery, but after I had done plenty of research I felt quite confident about it. And it's only Belgium after all! I'm so glad I decided to go with Beau Care. I saved around £2000, compared to having it done in the UK, which is a massive amount of money for me. The morning I arrived at the clinic, I was impressed, it was soo clean and nicely decorated, and the fact it didn't feel like a 'standard' hospital put me at ease.

Dr Wim Danau performed my surgery, he was very reassuring on the morning of the operation, and I felt like I was in very capable hands. I would definitely recommend him. A couple of days after surgery I returned and was able to have my drains removed and my bandages changed. I am now 6 months post surgery, and I couldn't be happier with the results. I have no regrets, whatsoever. I couldn't recommend Beau Care enough. Please do get in touch if you have any questions at all, I know I felt it helpful to speak to people who had also been to Beau Care!